Supplies: Grey suede from joanns, lots of interfacing, black buttons from stash (one doesn't match, shh!) back buckle from stash, and black lining from the insides of recycled garments. :-)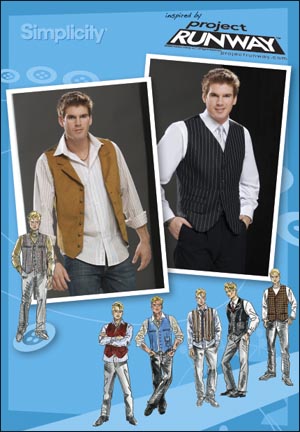 This project was for my youngest brother, Nathanael. I bought the fabric for it for him for his birthday last year and consulted him on some design elements, made a sketch, and completely forgot about it. So did he. :-) Which was nice, because I made it as a surprise over Christmas and he was really happy with it on Christmas afternoon.
I went for the more modern look with the rounded bottoms and straight back with the buckle to adjust the size. In his own words (to somebody else, so they really count :-) he said he was really surprised at how well made it was. So I guess you could take that a couple different ways, but it meant he thought is was high quality and something he would buy at a store.
Christmas Morning Score!
Here is the Front and back...
And some details!
My favorite part is the hidden left breast pocket that I put inside. I had to practice the welt pockets so I would get it right on the front, so I just put it in the lining! It was a little tricky the first time, but I think with practice I'll get much better.
fyi, exacto knives are AMAZING for button-holes. Use them.
The adjustable buckle on the back
One of the front welt pockets. All sewn shut like they come in the stores. :-)
Lining hand-stitched after the last turn.
Part of the motivation for this garment was Than's desire to wear it to "The Premiere." He had a black suit and white shirt to wear with it, so he wanted a tie that "popped" with color. He went for this purple number and I think it looks great. Following are some pictures from the night...
Administering pain must be some form of affection...
Because these two are actually best friends.
Silliness.
Don't mess with these gents.